Discovering the Magic of Jaisalmer: Things to do in Jaisalmer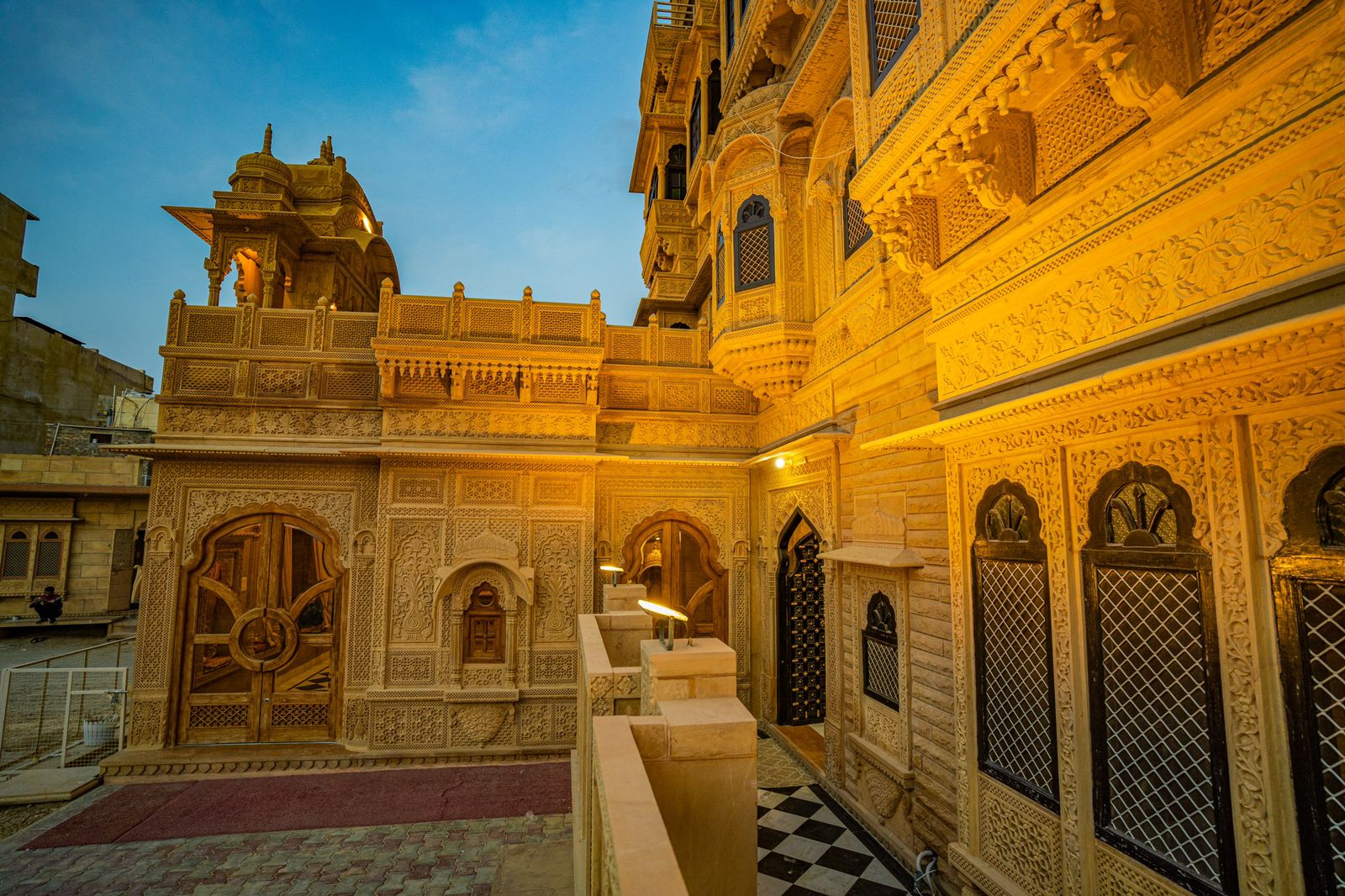 Nestled in the heart of the Thar Desert, Jaisalmer is a mesmerizing destination that offers a unique blend of adventure, culture, and relaxation. From exploring the magnificent Jaisalmer Fort to embarking on thrilling desert safaris, there's something for everyone in this golden city. In this blog, we'll guide you through the top things to do in Jaisalmer while introducing you to two fantastic accommodations: Shama Desert Camp in Sam Sand Dunes and Hotel Golden Rock in the city center.
Explore the Majestic Jaisalmer Fort
Jaisalmer Fort, Historical Site, Fort Tour
Your journey in Jaisalmer should begin with a visit to the iconic Jaisalmer Fort. This UNESCO World Heritage Site is a breathtaking architectural marvel that dates back to 1156 AD. As you explore its intricate carvings and ornate architecture, you'll be transported back in time to the era of Rajput kings.
Witness the Beauty of Patwon Ki Haveli
Patwon Ki Haveli, Heritage Architecture, Jaisalmer Attractions
Just a stone's throw away from the fort lies Patwon Ki Haveli, a collection of five grand havelis that showcase the opulent lifestyle of the wealthy merchants of Jaisalmer. These intricately designed mansions are a testament to the city's rich history and artistic heritage.
Camp in Jaisalmer: Shama Desert Camp in Sam Sand Dunes
Camp in Jaisalmer, Desert Camping, Shama Desert Camp
For an authentic desert experience, make your way to Sam Sand Dunes and book a stay at Shama Desert Camp. Located amidst the golden sands of the Thar Desert, this camp offers luxurious Swiss tents, cultural performances, camel rides, and scrumptious Rajasthani cuisine. It's the perfect place to witness mesmerizing desert sunsets and stargazing at night.
Hotel in Jaisalmer: Hotel Golden Rock
Hotel in Jaisalmer, Hotel Golden Rock, Accommodation
When you're ready to relax in the heart of Jaisalmer city, check-in at Hotel Golden Rock. This charming hotel offers comfortable rooms, warm hospitality, and a rooftop restaurant with panoramic views of the city. It's conveniently located near all major attractions, making it an ideal base for your Jaisalmer adventure.
Go on an Adrenaline-Pumping Desert Safari
Desert Safari, Adventure Activities, Jaisalmer Safari Booking
Your trip to Jaisalmer wouldn't be complete without a thrilling desert safari. Choose from options like jeep safaris, quad biking, or even a hot air balloon ride to explore the vast and awe-inspiring dunes of the Thar Desert. Don't forget to capture the stunning sunset as you glide through the sand dunes.
Savor Authentic Rajasthani Cuisine
Keywords: Rajasthani Cuisine, Food in Jaisalmer, Culinary Delights
Indulge your taste buds with authentic Rajasthani cuisine at local restaurants and street stalls. Try the famous dal baati churma, gatte ki sabzi, and ker sangri to experience the flavors of Rajasthan. Hotel Golden Rock's rooftop restaurant also offers a delectable range of dishes.
Conclusion
Jaisalmer, with its rich history, stunning architecture, and desert adventures, is a must-visit destination for travelers seeking a unique and immersive experience. Whether you're exploring the historic fort, camping in the sand dunes, or enjoying the comforts of Hotel Golden Rock, Jaisalmer promises an unforgettable journey. So, pack your bags, follow our guide, and get ready to create lasting memories in the Golden City of India. Don't forget to book your stay at Shama Desert Camp and Hotel Golden Rock for an unforgettable experience!