Spending A Nomadic Yet Romantic Day at Jaisalmer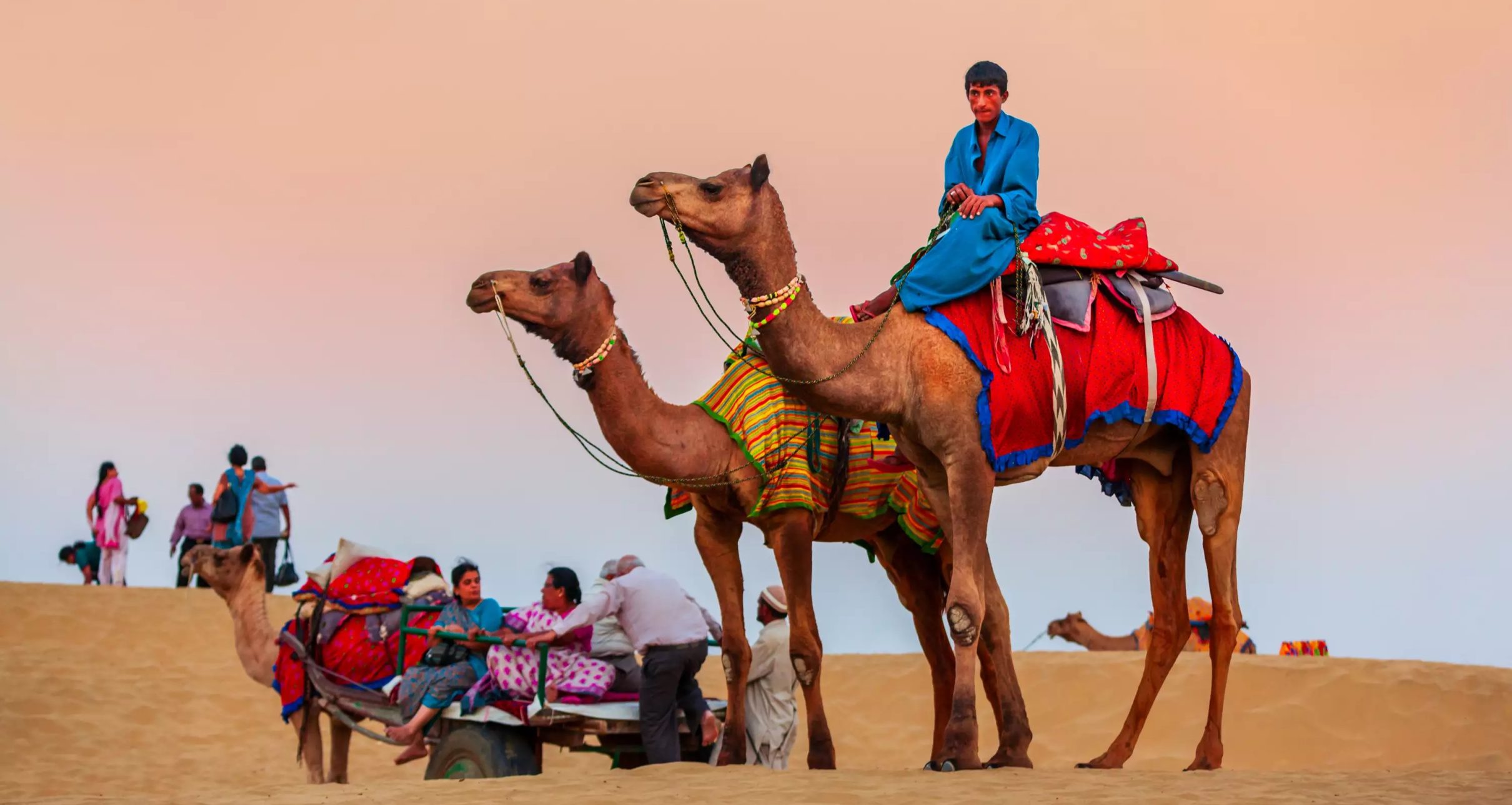 A romantic break in the countryside is one of the best ways to show your sweetheart how much you care about them when it comes to romance. But even while places like Jaipur and Jodhpur are regarded as some of Rajasthan's most romantic vacation spots, they can also be very crowded and overrated. Finding a different location to celebrate your love can be quite serene and unusual while also being safer in this pandemic. The Golden City of Jaisalmer is one place that lives up to this moniker.
Jaisalmer is the ideal place that won't fail to surprise you, whether you're travelling there for cultural research or to rest after a hectic few weeks at work, a family vacation or a romantic getaway, a trip to honour the arts or an adventure trip for adrenaline addicts. This heritage city is prepared to reinvent your ideas of grandeur and adventure with this journey, whatever your wanderlust aspirations may be.
Through Kanak Jaisalmer, one of the best ways to enjoy regal luxury, adventure, and a few moments of seclusion. They have a wide range of recreational activities to offer, including camel safaris, dune bashing, and exploring the cultural alleys and beautiful areas.
Interested in learning more about what we have to offer for a unique honeymoon filled with romance and adventure?
Living in a tent yet leading a regal life
Although royal palaces and havelis are sometimes associated with "royal life," this does not always have to be the case. At Kanak, we work to make your holiday a romantic event, but with a Kanak twist, as we were inspired by the designs of Rajputana's royal caravans. Kanak, which is located in the Thar desert, combines the allure of luxury with its tent accommodations and the natural charm of the desert with its surrounding wildness.
Imagine waking up next to your lover wearing the nicest suit suited for a king, going on a walk in the woods while they relax in the private pool, and appreciating life's simple pleasures.
The Jaipur Suit, Jodhpur Suit, and Jaisalmer Suit are a few of the best suits or tents since they are made to offer maximum privacy. We provide you with a large tent with a private bath, an exclusive view of the desert, and a gourmet meal on us in your quest to live the high life.
It's time to take a break from the race and take some time to unwind, refuel, and revitalise. We respect your desire to make wonderful memories with your spouse and guarantee to offer experiences that are unmatched and will live forever in your recollections.
Take a Desert Safari
A desert safari is the traditional means of discovering a desert city while getting a taste of the local customs and the real Rajputana heritage. Although described as adventurous, most couples choose a desert safari to immerse themselves in the local culture. Tours like this let two people travel back in time and experience a completely new way of life.
These tours transport visitors across the Thar desert, which is bathed in sunlight, to the surrounding remote native villages of Jaisalmer with the assistance of a knowledgeable local tour guide. In contrast to how it is portrayed in travelogues and documentaries, Desert Safari enables you to have a closer look at this simple way of life and enjoy the ideal fusion of intrigue, tranquilly, and romance.
Dune bashing, village tours, tours of the Khaba Fort, and camel safaris are just a some of the additional things that Kanak Jaisalmer provides.
Take A Look At The Haunted Kuldhara Site at The Fort
Do you enjoy cuddling up and watching scary movies with someone? When a camp tells a ghost story, do your ears perk up? Do you and your partner enjoy visiting unusual, eerie places? You should go on the Kuldhara village tour. Kuldhara is a story that draws visitors from all over the world because it is intertwined with Salim Singh, the former prime minister of Jaisalmer, and his plot and corruption.
Kuldhara, an affluent Paliwal Brahmin village in the 19th century, unexpectedly saw all of its population leave in a single night. Folklore holds that Salim Singh's desire for the village chief's daughter as a bride led to the people' abandonment of their land. He threatened to impose higher taxes on the neighbourhood in the event that the idea was rejected. The peasants left in one night and cursed the land in order to avoid being surrounded and compromised. Anyone who has attempted to settle in Kuldhara has experienced paranormal activity.
You can learn about the history of the area, the remnants of the civilization, and the interactions between explorers and traders in pursuit of the unknown at Kuldhara Village Tour by Kanak, which is now an archaeological site.
Dine on the Dunes
Kanak Jaisalmer is a rustic desert resort perfect for couples looking to escape the hustle and bustle of the city and enjoy this tranquil retreat. It is located away from the stunning interiors of heritage hotels, expansive forts, and elaborate restaurants.
Kanak gives you the opportunity to enjoy regional and international cuisine on the warm, golden dunes of Jaisalmer in addition to the variety of facilities at your disposal. Our farm-to-table philosophy provides daily dishes stuffed with seasonal, fresh vegetables.
We advise you to go to the cultural night and then have dinner on the sand for a special evening. Visitors to Kanak have access to special, secluded spots for intimate eating.
The Million Stars Bonfire
Imagine stargazing amid Jaisalmer's desert landscape if the idea of sleeping under a starry sky thrills you and your partner. Even while Kanak Jaisalmer's regal tents offer the best royal experience, there is nothing quite like sleeping under a million stars. It gives you the chance to take in the ageless quality of desert life and feel the tranquilly and calm that envelops you from head to toe.
We guarantee you will have an amazing experience, whether you choose to stay in the fairytale-like royal tents in the middle of the Thar desert or spend a romantic evening cuddled up in your partner's arms under the stars.
Contact us in advance to make your night even more memorable; the plans will surely satisfy and surprise you. Visit the cultural night during your free time, or simply relax and take in the breathtaking sunsets before a candlelit dinner under the stars.