5 Adventure Sports In Jaisalmer To Experience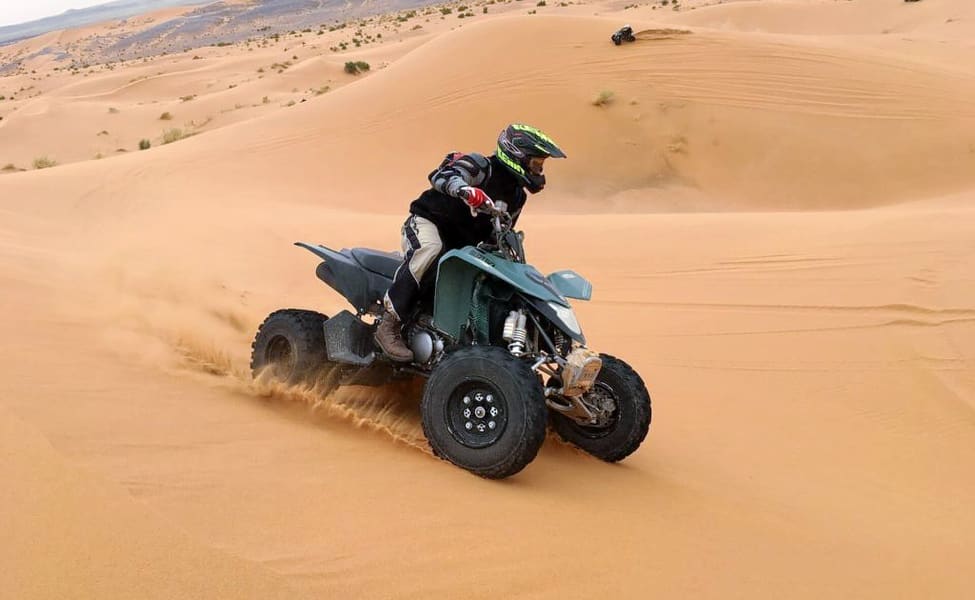 Jaisalmer, often known as the 'Golden City of India,' is a mix of modernism and heritage. Jaisalmer has it all, from old forts and temples to a vibrant nightlife and even adventure sports. It is properly remarked that the best way to comprehend and grasp Indian culture is to visit Rajasthan, particularly Jaisalmer! There are numerous things to investigate here. But wait, there's more! There are several adventure activities to attempt in Jaisalmer to get your adrenaline pumping!
Jaisalmer's Top 5 Adventure Sports 
Every location on the planet is distinct and offers us a variety of experiences. The adventure activities that you may participate in in Jaisalmer are unlike anything else in the world. Take a look at the details below to see proof of this.
1. Dune Bashing
If you're visiting Jaisalmer and enjoy extreme sports, dune bashing is a must-do activity. Isn't the name enough to imply something? It entails driving an SUV through sand dunes. This is going to be a roller coaster ride. You must fasten your seat belts before you can fully appreciate it. Apart from that, you could feel like you're in a stunt show at times. The best aspect about participating in this one of Jaisalmer's top adventure sports is that there is no risk involved. As a result, even those who prefer less daring activities could fully appreciate it. This location is 44 kilometres from Jaisalmer. You can have a 30-minute ride and then return to your location with many nice recollections. 
Location: Jaisalmer's Sam Dunes 
Prices: Starts at 1700 INR.
2. Desert Luxury Camping 
Luxury desert camping is another adventure sport available in Jaisalmer. You already know the pattern if you've ever gone camping. However, because the location is distinct, the camping experience must be distinct as well. Now, if you don't have the time to travel throughout the entire state but want to have a taste of everything, you should come here. There are also camel safaris and other activities available. There will also be cultural programmes based on Rajasthani folklore to enjoy. 
Location: Thar Desert
Price: Starts from 1499 INR
3. Jeep Safari in the Desert 
The first thing you should do when you arrive in Jaisalmer is go for a stroll through the golden city. We believe that everyone has this thought, but it is almost impossible to go out and examine everything. As a result, these safaris were created. You will be taken on a tour of the city. It might be a camel safari or a Jeep safari. Both of these activities are designed to let you discover the city's beauty, but the Jeep safari is superior because it provides more comfort and ease. 
Location: Various locations 
Prices: Starts at 800 INR.
4. Parasailing
This is one of the most interesting adventure sports in Jaisalmer that you should not miss. If you are visiting Jaisalmer, you should participate in this activity because Rajasthan is one of the best spots in India for parasailing. It has better runways and stripes, and it will fill your heart with excitement and adventure during the activity. The activity is led by a professional, and you will be equipped with all of the necessary safety equipment. This activity is for individuals who are terrified of heights and are visiting Jaisalmer. After you've done this once, you'll be able to get through this year. The activity takes a total of 30 minutes to complete. You will, however, only be in the air for 3-4 minutes. 
Location: Various locations 
Price: Starts from 686 INR
5. Quad Biking 
Quad biking is one of the adventure sports in Jaisalmer that you should attempt if you are someone who enjoys adventure. Quad biking is something you can do independently. No one will bother you for the next 20-25 minutes here. This activity is perfect for you if you consider yourself a good rider who wants to take on new challenges. You will be given an ATV (four-wheel bike) to ride on your own, in the middle of the desert. You may feel as if you are doing a trick. There are a few things to bear in mind while participating in this activity. Wear comfortable clothing and any necessary safety equipment. At the activity point, there is an instructor who will explain everything to you. 
Location: Various locations 
Price: Starts from 850 INR
Conclusion
So, these are some of the exciting and entertaining adventure sports available in Jaisalmer! All you have to do now is choose the best option for you. The best part is that these activities are not only enjoyable but also inexpensive. There is a lot to do here, from exploring the city at its best to camping in the middle of the dunes! So, what do you have to lose? Make plans to visit Jaisalmer as soon as possible!