What Happens When The Sun Goes Down In Jaisalmer's Nightlife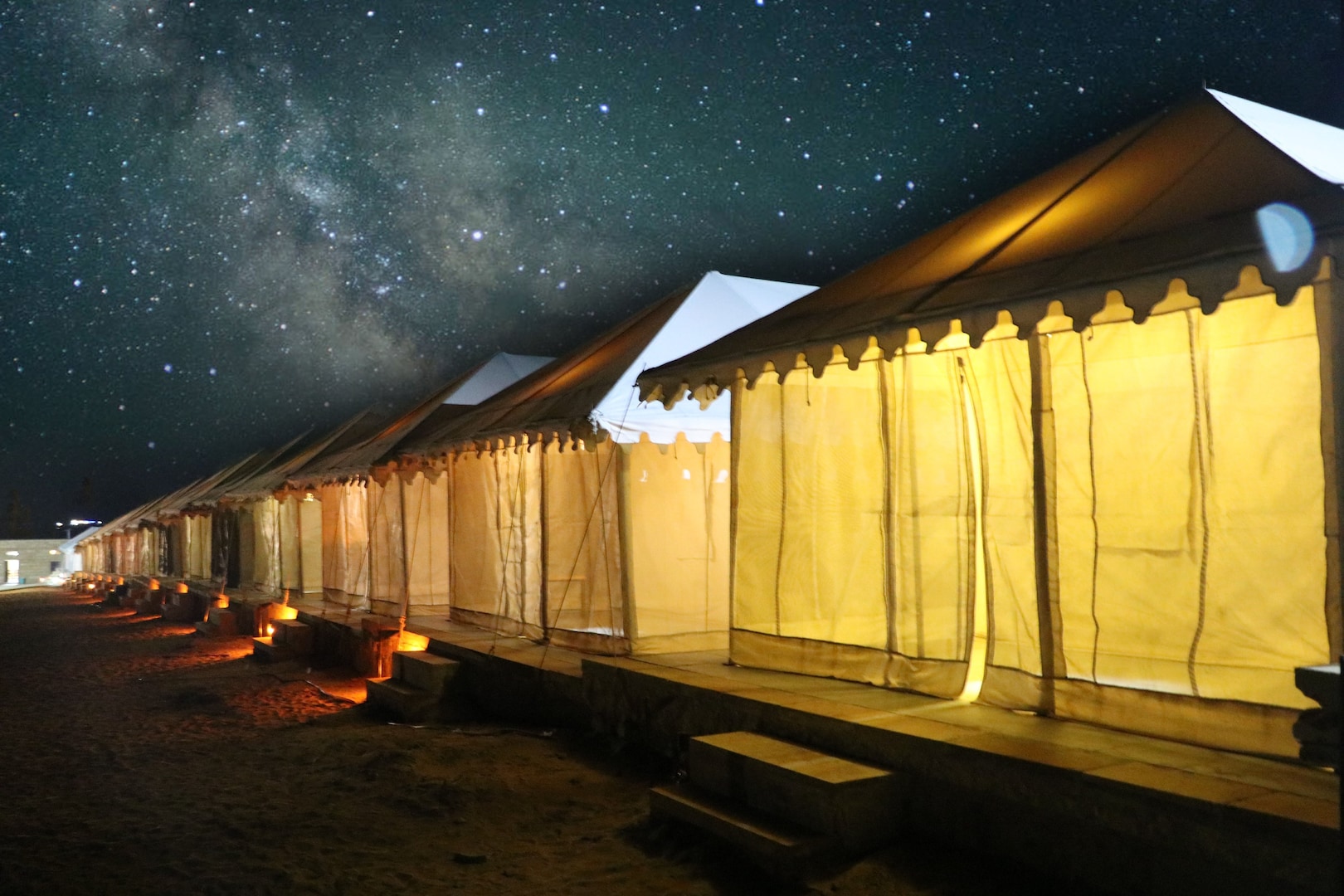 Jaisalmer, a princely state in Rajasthan recognised for its legacy and welcoming culture, has it all for tourists: spectacular views, awe-inspiring yellow stone architecture, and historically significant landmarks. This is something we all know about this popular city in Rajasthan, but the nightlife makes it even more interesting to visit. Experiencing the nighttime in Jaisalmer is one of the must-do activities, as not only does this fascinating city appear ten times more gorgeous in the moonlight, but it also allows you to partake in a variety of exciting activities.
7 Things To Do In Jaisalmer While Enjoying The Nightlife
We are all familiar with Jaisalmer's historical and traditional elements. However, one must experience Jaisalmer's nightlife to have a good sense of the city's cultural aspects. Scroll down to find out what awaits you in the princely state of Rajasthan at night!
1. Camel Safari
Going on a camel safari in one of Rajasthan's cities is a must, especially when it involves doing it under a star-filled sky. In the night, the golden metropolis takes on a distinct hue, and riding a camel during that time will transport you to tales from Arabian Nights. You'll be swayed not only by the sheer beauty of night, but you'll also feel fairly serene away from the hustle and bustle of city life. 
What to expect: This recreational activity will teach you about Jaisalmer's culture by allowing you to engage with locals.
2. Camping at Night
Camping in the Jaisalmer desert is one of the most enjoyable activities available. When travelling in a group, this is one of those experiences you should have. After a thrilling yet calm camel ride, a camp stay in Jaisalmer is much more than just relaxing. Additionally, you will get the opportunity to see some of the most captivating cultural performances. 
What to expect: In addition to allowing you to experience desert life, camp night will provide you with a deeper understanding of the city's cultural characteristics thanks to folk performances.
3. Desert Safari
For the travellers, this might be a fascinating and unforgettable experience. There are several midnight desert safari tours available. A camel safari or a jeep safari are both options. Because the weather here at night is rather beautiful, with a cool wind, crossing the various sand dunes during this time will make you never want to leave. 
What to expect: The nighttime quick jeep safari is one of the most thrilling activities available in Jaisalmer.
4. Going to bars 
Jaisalmer has club hopping! In this Rajasthani city, there are various clubs and pubs to choose from. Jaisalmer, known for its mythology and history, will astound you with its bustling nightclubs. Incredible Discotheque, Satans Den, Draksh The Bar, Shatranj The Bar, and others are among the best bars and pubs to visit. 
What to expect: In one of these bars, you'll have the chance to mingle with like-minded locals as well as other tourists.
5. Road Trip at Night  
A road trip might be a pleasant experience if you wish to see the areas surrounding Jaisalmer as well. Cities such as Jodhpur (282 kilometres), Udaipur (244 kilometres), and Bikaner are all accessible from here (329 kilometers). To make the most of your road trip, stop at some of the best sites in Jaisalmer on your way to one of the cities. For example, if you take a diversion on your way to Jodhpur, you'll come across a barren terrain where you can see Rajasthan's animals. 
What to expect: A road trip from Jaisalmer might be one of the best nightlife experiences of your vacation, especially if you go with your friends.
6. Evening Show
If you enjoy viewing movies at the end of the day, you must pay a visit to the well-known Ramesh Talkies. Book the last concert on the programme for an unforgettable night with your travelling companions. This theatre, which is located on Patwon ki Haveliyan Road, is a popular destination for both locals and tourists. 
What to expect: Despite the fact that the theatre is relatively old, only the most recent films are screened here. As a result, visiting this location in the city late at night will not disappoint.
7. Elegant Dining 
Consider this one of the nicest things to do late at night, particularly if you're exploring the city with your partner. There are a number of restaurants that are great for a beautiful supper, not only because of their delicious food but also because of their relaxing atmosphere. Pleasant Haveli Rooftop Restaurant, The Jaisal Treat, and Jaisal Italy Restaurant are a few of these places. 
What to expect: Having supper in one of Jaisalmer's exquisite restaurants can only enrich your travel experience, whether you're going on a romantic night with your loved one or spending some priceless moments with your friends or family.
Conclusion
The city of Jaisalmer is appropriately known as Rajasthan's Golden City. You can never have enough of this city, with its great past represented in the different forts or palaces, and charming culture. In this desert city, the vivid environment infused with Rajasthani heritage will charm you. When planning a trip to Jaisalmer, don't forget to include the great activities available at night, since the nightlife in Jaisalmer is worth seeing.