Shama desert camp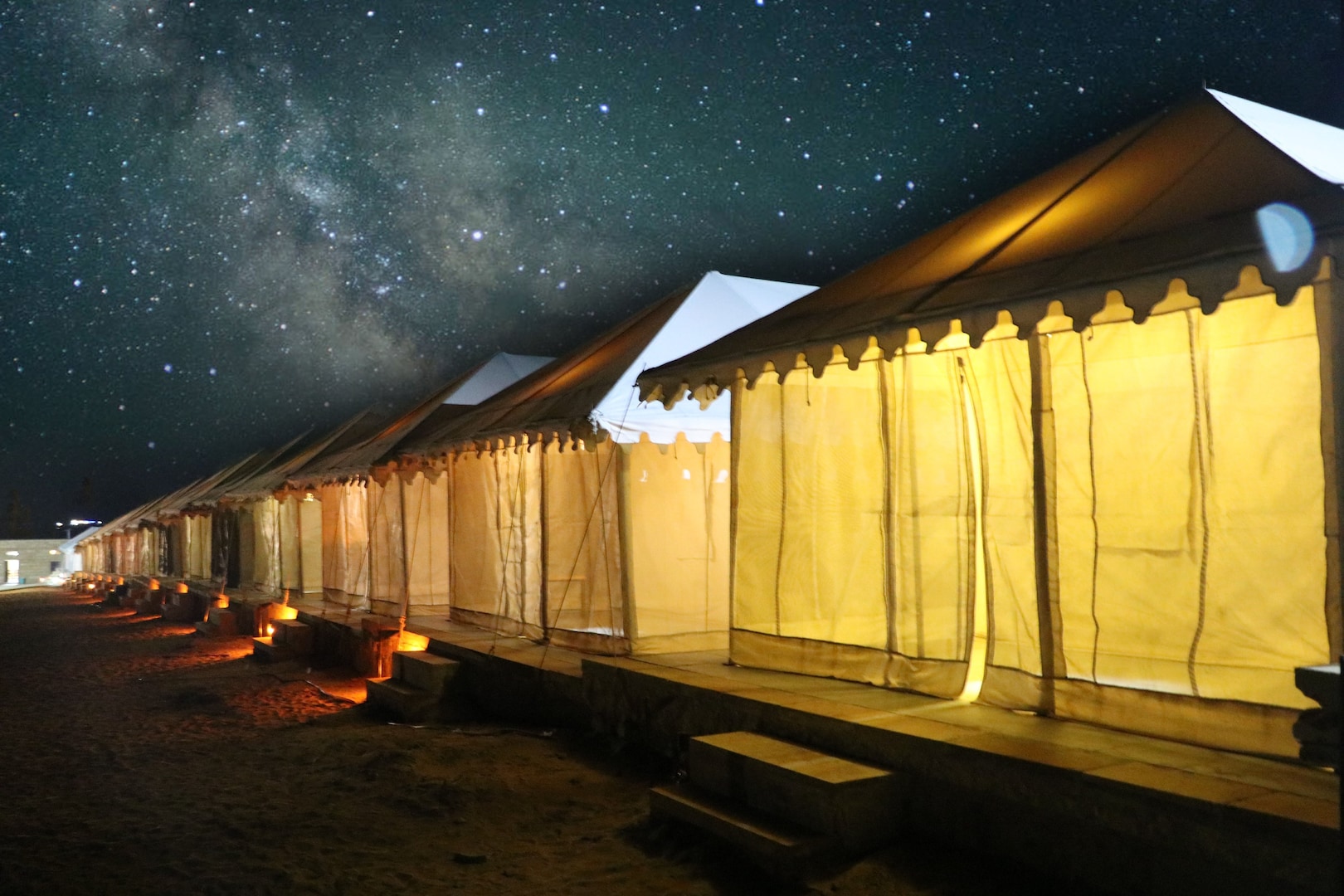 Best Jaisalmer Camping
Enjoy a quiet and relaxing night under the starry skies experience the best camping in Jaisalmer! Shama Desert Camp is built right in the heart of Sam sand dunes of Jaisalmer. It offers a smore romantic experience than other desert camps in Jaisalmer, due to the proximity to the golden city – Jaisalmer. The camp has 40 luxury tents which are designed keeping comfort and cozy ambience as its focal point.   Another advantage of Shama is that it is close to both Jaisalmer and Jodhpur, and also major tourist attractions such as Pushkar, Jaisalthan Bird Sanctuary, Balsamand Lake and so on.
The Shama Desert Camp is a perfect getaway for a memorable desert safari & camel rides in the middle of Golden sands of the Sam Sand Dunes & serene deserts of Jaisalmer. Offering absolute luxury desert camping Jaisalmer experience.
At Shama desert camp, you will sleep beneath the stars in a luxury tent, with the feel of Jaisalmer all around you. Situated amidst the Sam Sand Dunes, our accommodation offers ample opportunity to relax and unwind. Dine under the glittering night sky as the sand dunes shift colours before your eyes.
A stay at Shama Desert Camp is a once-in-a-lifetime experience, surrounded by stunning sand dunes, and the beautiful Thar. It is situated in the heart of Jaisalmer; the Golden city. Luxury accommodation made in traditional Rajasthani Architecture with all modern facilities, serve their guests in a royal way.
Desert makes its mark on everyone who visits it. Shama desert camp gives you a chance to get surrounded by the beauty of the barren deserts of golden city- Jaisalmer like never before. When you step inside this desert camp in Jaisalmer, magic surrounds you. An oasis of peace and tranquility. Here the sand dunes are just a stone's throw away, the Thar Desert spreads out for miles and the stars that shine at night make you feel like there is nothing else but the here and now. Perhaps this is why Shama Desert Camp is a favorite among our guests.